These 5Faves are about Middle Ages-related things that I love most.
Yes, I know that there are probably not so many people who are keen on medieval period of human history, but still...
For me, it all started in the university. My first university is a scholastic institution specialized on historical studies, and it's truly awesome. If you happen to be in Moscow sometimes, you can come and see. It is situated close to Red Square in a historic building which housed the printing press of the Russian Orthodox Church in the XVII century.
Look, there are a lion and a unicorn just above the front door (always closed, it leads to the inner court). There are also sun clocks just above the doors.
However we were mostly studying HR and documentary service on our Faculty of Records (and I was mostly studying IT topics related to HR), the historical approach was everywhere. I've started reading lots of books on history and writing my essays and works only on medieval topics where it was possible. Benedictine Rule. Crusades. Gothic architecture. Thomas Aquinas. Cathars. Inquisition. Etc, etc, etc.
Middle Ages and web programming. A good mix to become a complete nerd. That's why some teachers from the Medieval Studies found me and proposed that I would change the faculty. I haven't. Now I whine lots about that (but where was I supposed to find a paid work being a specialist on heresies?).
I realize that Middle Ages are mostly not pleasant to discuss. There was a huge lack of hygiene, therefore plague and other terrible illnesses. There was war, and famine, and lots of people who went crazy because of that. Flagellants there were, and mass executions, and Great Schism, and more things that were not romantic at all.
But there were also things that are truly awesome.
1. Illuminated manuscripts.
They were mostly made in monasteries where highly educated specialists worked on each part of the page (the text, the marginalia, the illustrations, the colours and the appropriate content that should be displayed on the page).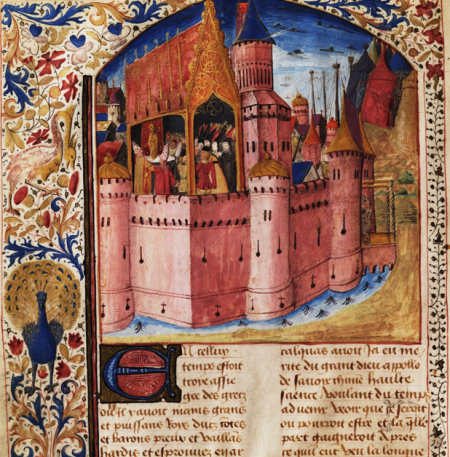 Dazzling. You can see more here - The Romance Of Middle Ages.
In his famous (and truly recommended) book The Name Of The Rose, Umberto Eco describes it like that:
Until then I had thought each book spoke of the things, human or divine, that lie outside books. Now I realized that not infrequently books speak of books: it is as if they spoke among themselves. In the light of this reflection, the library seemed all the more disturbing to me. It was then the place of a long, centuries-old murmuring, an imperceptible dialogue between one parchment and another, a living thing, a receptacle of powers not to be ruled by a human mind, a treasure of secrets emanated by many minds, surviving the death of those who had produced them or had been their conveyors.
2. People seeking knowledge.
Have you known, for example, that in spite of common thinking about these times, Middle Ages people were able to determine that Earth is a sphere?
They were not ignorant and blind. They were researching things. Even women (in spite of common thinking that women could do nothing at these times).
Let's take, for example, saint Hildegard of Bingen and her awesome works on medicine, herbology, physics and music. I have a Latin copy of her Physica at home - she discovered lots of natural remedies for all kinds of illnesses (she mentioned even a nice tincture to make young nuns who laugh too much in the choir more calm and serene).
3. Medieval cuisine.
It's awesome. People treated food like a treasurous gift and invented lots of methods to make daily food more nutritious and diverse, although they had not much foods that were affordable.
A woman cooking, a cat is nearby watching carefully for some spare parts. Tacuina sanitatis (XIV century).
If you are by any chance interested in recipes, here is a site that has some - Medieval Cookery. As for me, I have several books and I can recommend, for example, this one - The Art of Cookery in the Middle Ages. 
It's interesting to know that: a) people ate different things depending on their social status; b) in spite of that, almost everyone maintained lean-day strictures and tried to do it the way that lets one stay satisfied (=able to work).
4. The way that people dressed.
The same thing here. They didn't have lots of cheap materials and sewing machines and stuff. But they cherished beauty and searched for ways to look good, even if they didn't have enough money.
Fashion also changed. The perception of human beauty developed. The style depended on the country, the region, the century - but it somehow stayed a recognisable style. As I look through the pictures, I can't stop myself from saying that probably we modern people uncover too much naked body to seem beautiful and so we lack grace that they had.
Here's a photo of me wearing the gown that I have for rare occasions of medieval festivals (here without a veil and an ampyx to cover the head, but I still love it):
5. The way people saw the world.
It's an important part of the story - I mean, the medieval view of the world.
Everything was connected. The world of medieval people was full of symbols and beliefs that were deeply attached to each other. And, at the same time, everything was organized in quite simple way. The Earth was a reflection of the Kingdom of Heaven. Everyone had his proper place. If this place was for some reason unacceptable, a person might end as a stray with no home or family or God.
Or you just might take your sword, find a horse and go fight for the Holy Sepulchre.
Acceptance. A great personality feature that almost everyone had. If you are married to someone you even don't know, it's time to accept things and try to make something good out of it. And, at the same time, a constant struggle that gave birth to another great personality features - dignity and courage. If a Saracen asks you what you'd like most - to die or to embrace Islam, you die with God's name on your lips. 
For a person born in Middle Ages it's only natural to have an inspiring, deep faith. No one misses the Mass (although I'm sure that people slept on Mass - just like nowadays). Everyone lives with a feeling that God is protecting and strict and alive amongst us. Following the liturgical year is almost one and only option. 
Although it might be really hard if you are by any chance left-handed or red-haired or have papillomas in unappropriate places...
But still, the way of life where you may meet a saint on the street or believe in unicorns that are attracted and trapped by virgins or that there are people with dog's heads on the other side of the world or that one day you may see your guardian angel is amazing.
Truly amazing.
***
Thanks for the challenge Hallie =)